Up until the start of 2019 i had a custom liquid cooled pc with soft tubing.
The next
obvious
step was hard tubes.
I fell in love with the clean look of the EKWB Quantum line so i decided to go with that (details below).
I wanted a simple black and white theme with rgb lights on the components so i could switch the color theme any time i like.
My initial plan was to go with a Z360 mainboard and the EKWB Monoblock back in early summer 2018. With the end of 2018 approaching, the time when i wanted to get the new build done, i then wanted to get the newer Z390 chipset for which there was no monoblock available.
I wanted to cool my vrm's though. Not necessarily for performance or anything but for the looks.
So i decided to go with the Maximus XI Formula which has the EKWB Hybrid VRM Cooling and also the pretty cool display below the cpu socket.
As for the watercooling my first plans looked something like this: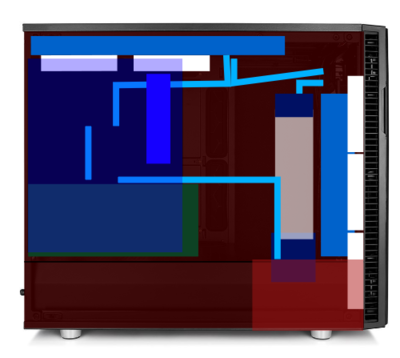 I found some great information about the dimensions of the case
here
, so i was pretty sure that what i had in mind would fit in the case.
Considering this was my first hard tubing build i am absolutely happy with how it turned out. I managed to get the tubes quite parallel on the 45° ones and everything lined up almost perfectly.
The fluid is Mayhems Pastel White.
I have my CPU overclocked to 5.2 Ghz@1.425v at ~37°C in idle and ~50°C when playing for hours.
The RTX 2080 does not go above 50°C either.