Me, bending tubes:
F**k hardline tubing!
Me, now:
F**k.... hardline tubing 😍
This was my first custom water cooling loop, and the first build that I did any "major" case mods to.
I loved the look of loops with distro plates, but I wanted something that'd stand out a bit more so I went with one of Phanteks' rear mounted ones. Every distro plate build I've seen makes it look like they make the process easier, and I'm sure some of them do. Specifically, distro plates that are made for an exact case. This case/distro plate combo looks amazing, but was a major pain to get right. I could get the pump and the top rad to line up on at least 1 axis, but the CPU and GPU would not play nice. This meant every tube had to be bent at least twice; with all bends requiring too much precision to NOT do by hand.
As for case modding, I did a few things.
1) Cutout in the PSU shroud for pump/res to fit.
This Protium pump/res is awesome, but I underestimated how big it really was. To get it to sit
just
right to line up with the distro plate, I had to lower it quite a bit on the radiator which meant I had to cutout some of the PSU shroud to make it fit.
2) Cut opening in cable management tray
My only complaint of the Enthoo Evolv X is that there's a small piece of metal the protrudes from the cable management tray that directly interferes with where you plug the 24-pin connector into. This prevents you from having a perfect "arc" on the 24-pin cable as it comes out of the back of the case.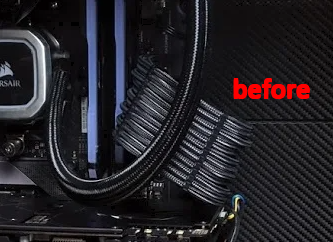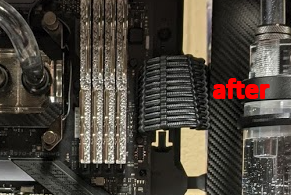 3) Cutout on bottom of case to fit a 120mm fan.
Just to add a bit of fresh air into the case, I made a small cutout in the bottom of the case, and mounted a fan + filter. It probably doesn't help a TON, but it's better than nothing.
4) Acrylic panels.
I replaced the stock sliding cable management panels that come with this case with 1 big piece of acrylic. This gives it a much cleaner look, and interferes less with the mounted radiator.
5) Carbon fiber vinyl wrapping.
Continuing my obsession with all things carbon fiber, I added some accents across the build with vinyl.
6) Monitoring screen.
I added a small screen in front of the PSU to monitor system temps. I used a small 5 inch Raspberry Pi screen, "made" it fit, and added a piece of acrylic to fill the remaining gap in the PSU window. I'm running AIDA64's sensor panel, pictured is my work-in-progress layout/sensors.
PassMark Benchmark