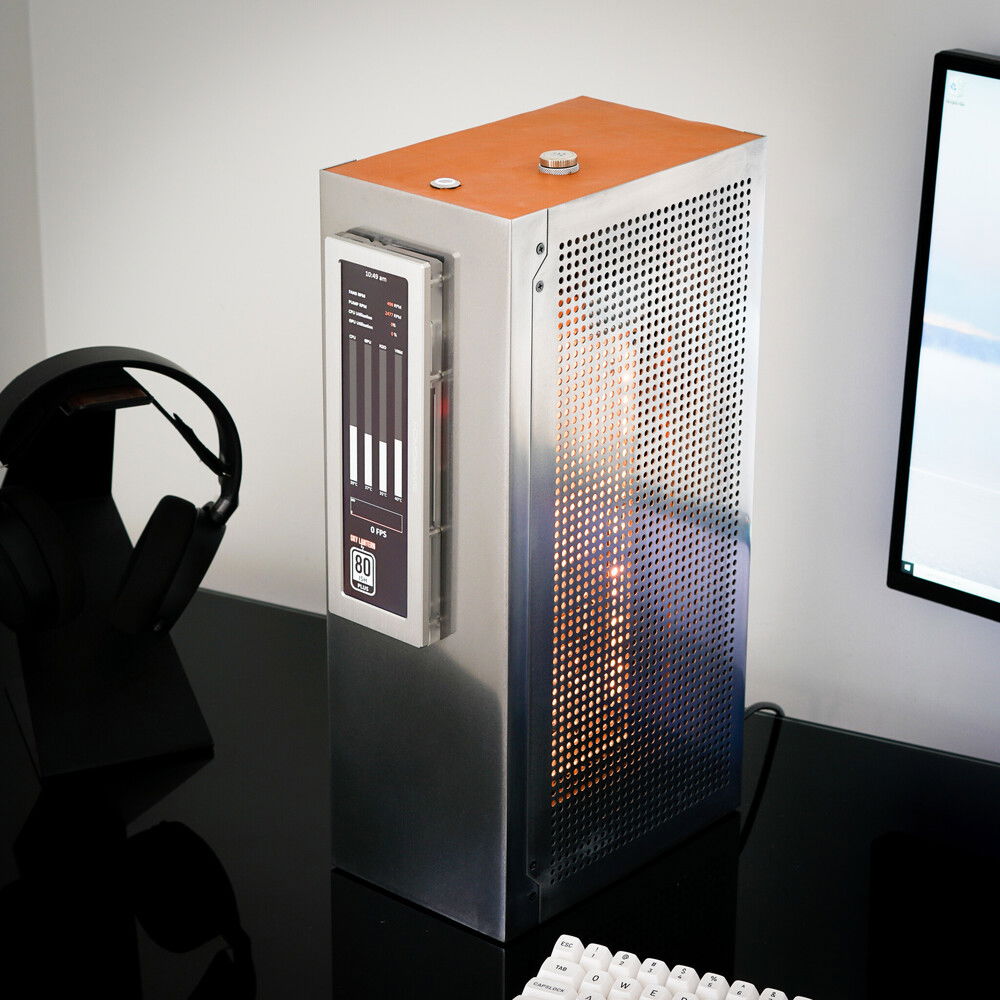 This @sligercases SV590 build is just stunning in person and I'm very proud of it. I've built it for a close friend of mine who served with me in a previous life, and I'll be draining and packing this one up and taking it with me to Singapore so that it gets to its new home before Christmas. It's got a soft natural tan leather top and the case panels have been hand sanded down through the galvanised coating and polished to a natural shine. The overall effect is quite striking and I think that this build would look great in any gentleman's gaming nook. Sky Lantern showcases my modern industrial design preferences of exposed materials, a natural colour palette, and the beauty of visible function. In my usual way I'll be posting final photos this week @80ishplus on Instagram before I head off for Christmas holidays.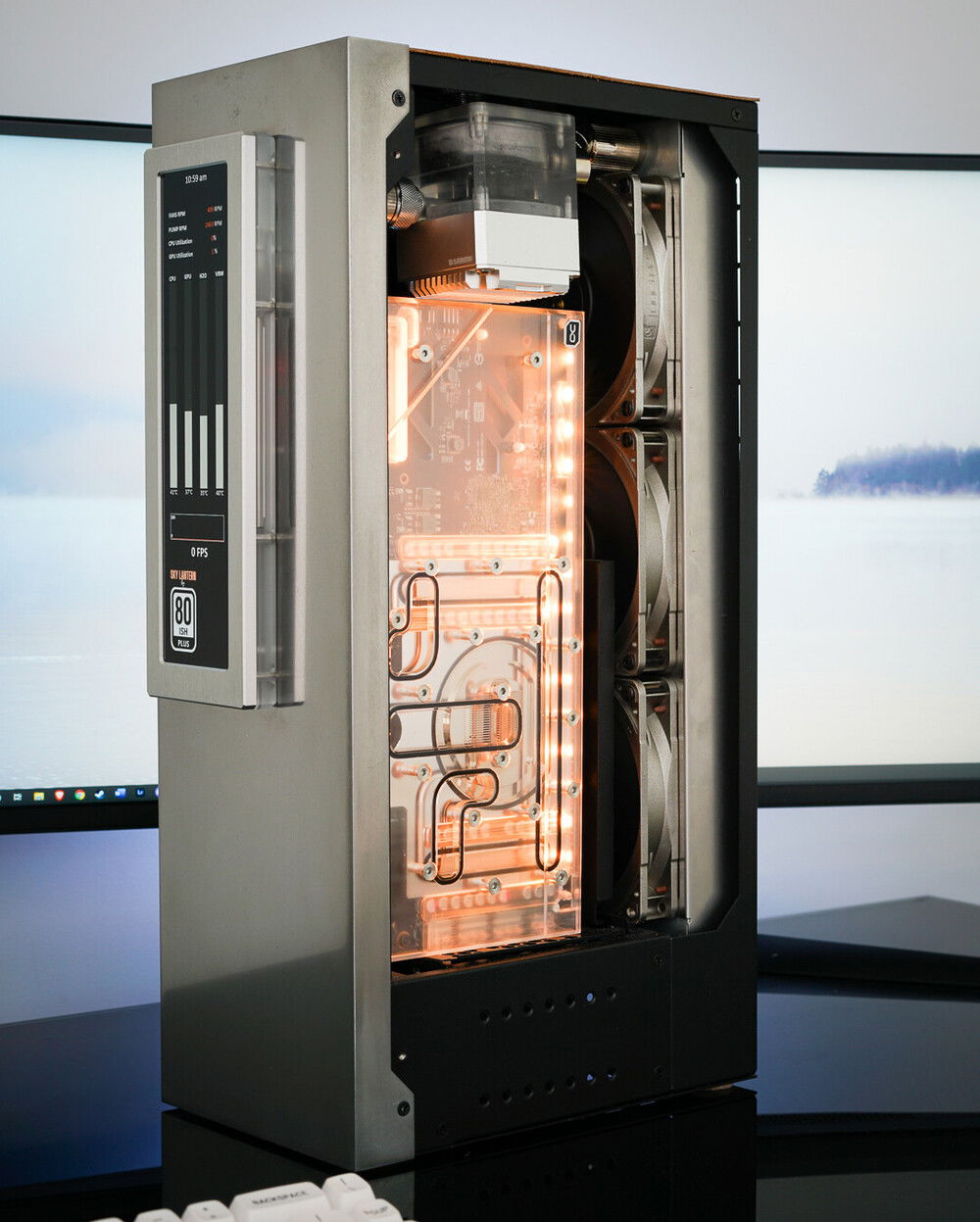 The graphics card is an @teamevga RTX 3080 FTW3 with an @alphacool_int GPU block. The name Sky Lantern comes from the Chinese lanterns made of paper that float a candle into the sky. The way the light flickers through the side panel when it's on kind of reminded me of that.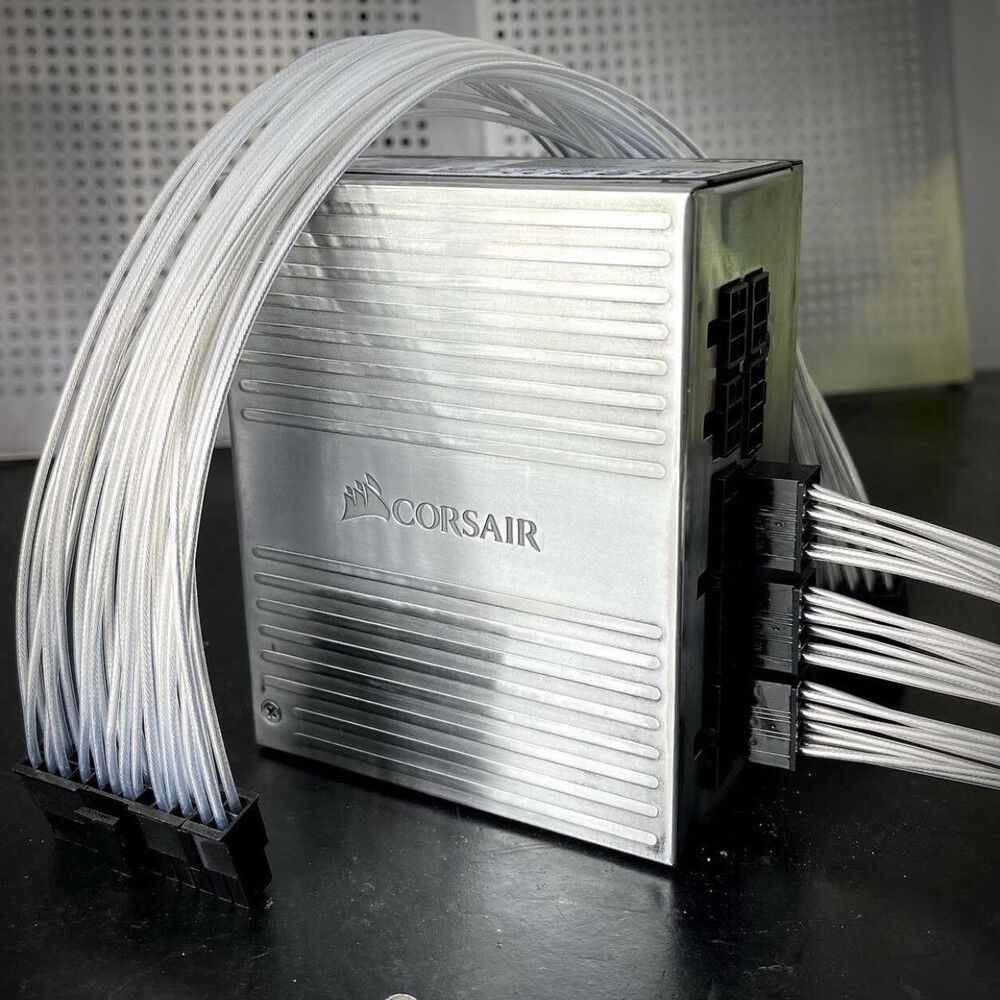 Thanks Cablemod for sponsoring this build with some SFF cables. Perfect length, no fuss no muss.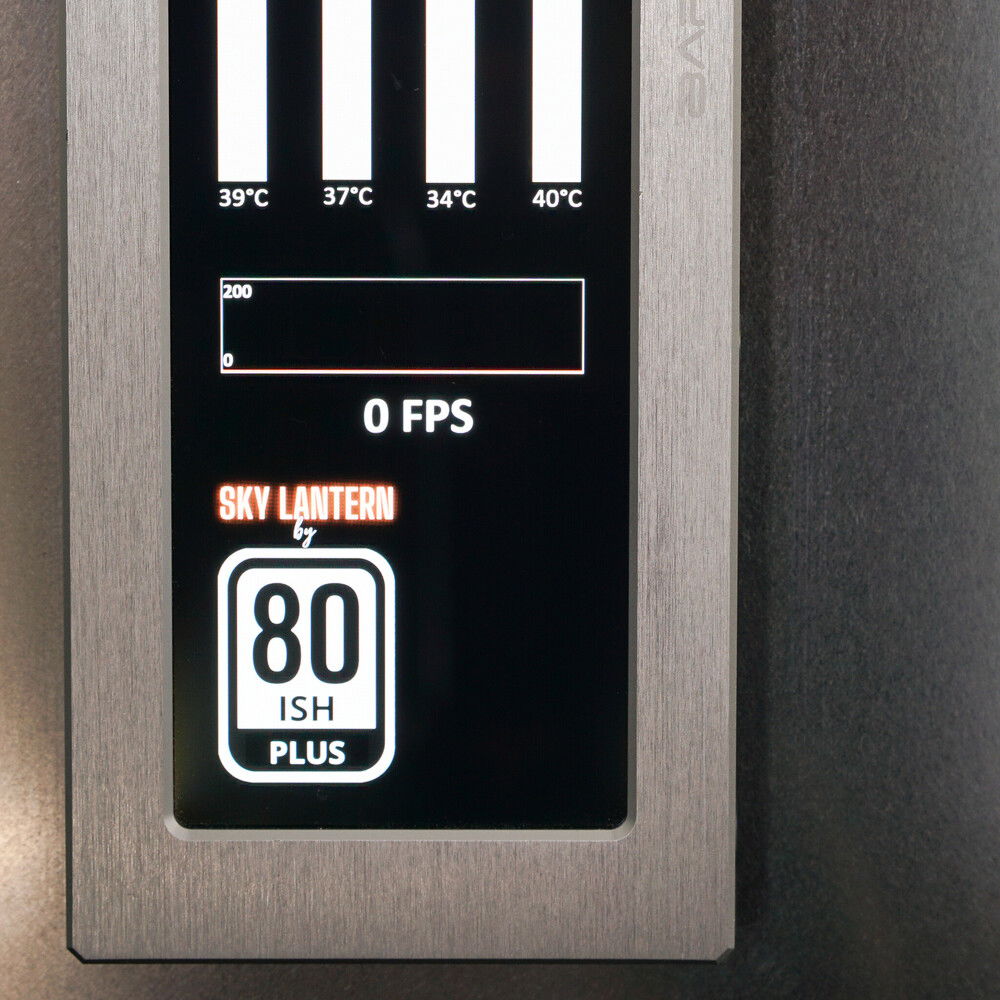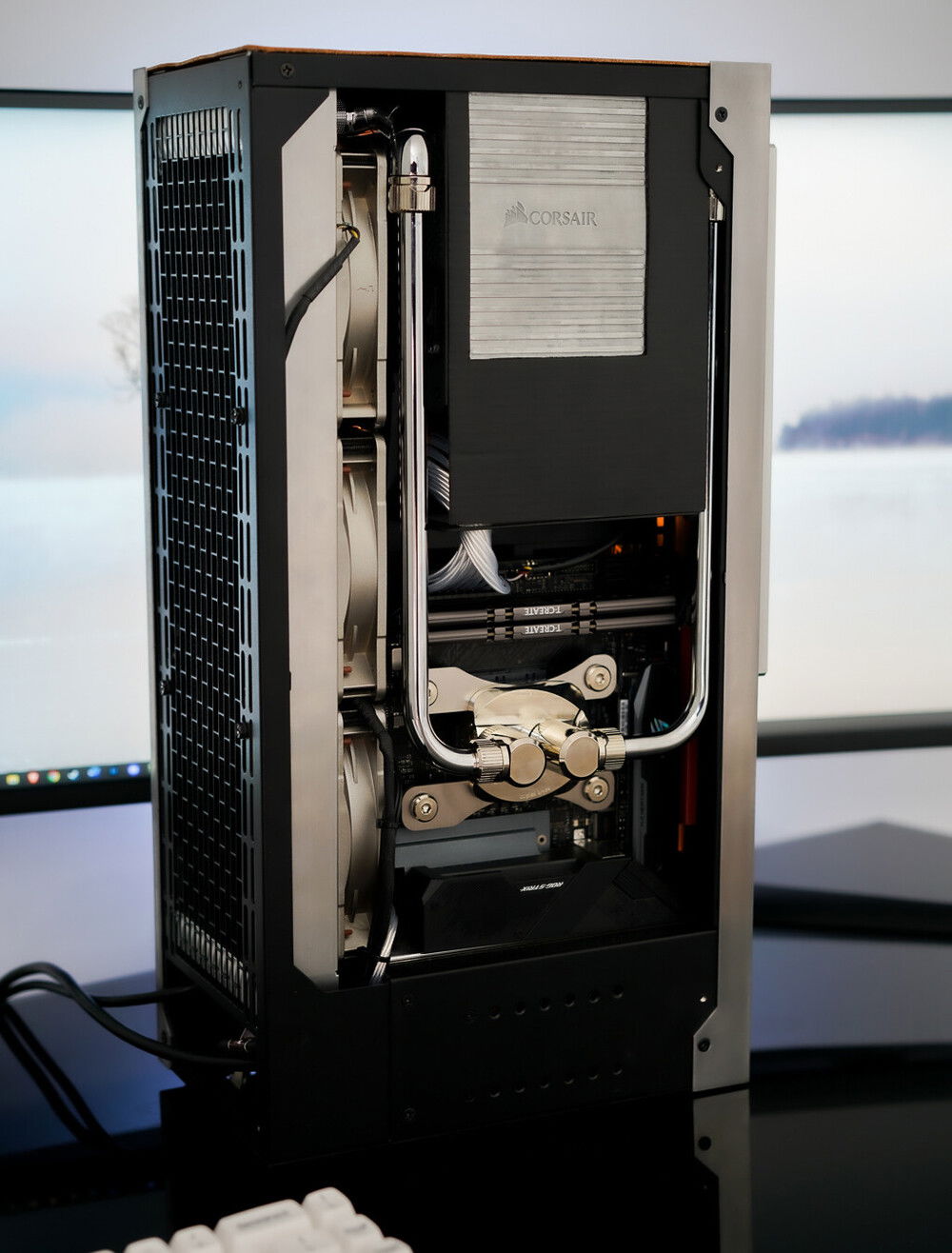 So I gave up my favourite waterblock for this build. I don't think there is really anything on the market that looks quite as nice as the @aquacomputer cuplex kryos NEXT. It's sitting on an @asusrog b550 ITX motherboard with an @amd Ryzen 5800x. You can see the @corsair SF750 PSU on the top that I've stripped of paint to have the natural material showing. I was originally going to laser cut a piece of black acrylic as a vanity screen but I just wasn't able to get it done before Christmas. I've used a mixture of @ekwaterblocks Torque and classic fittings.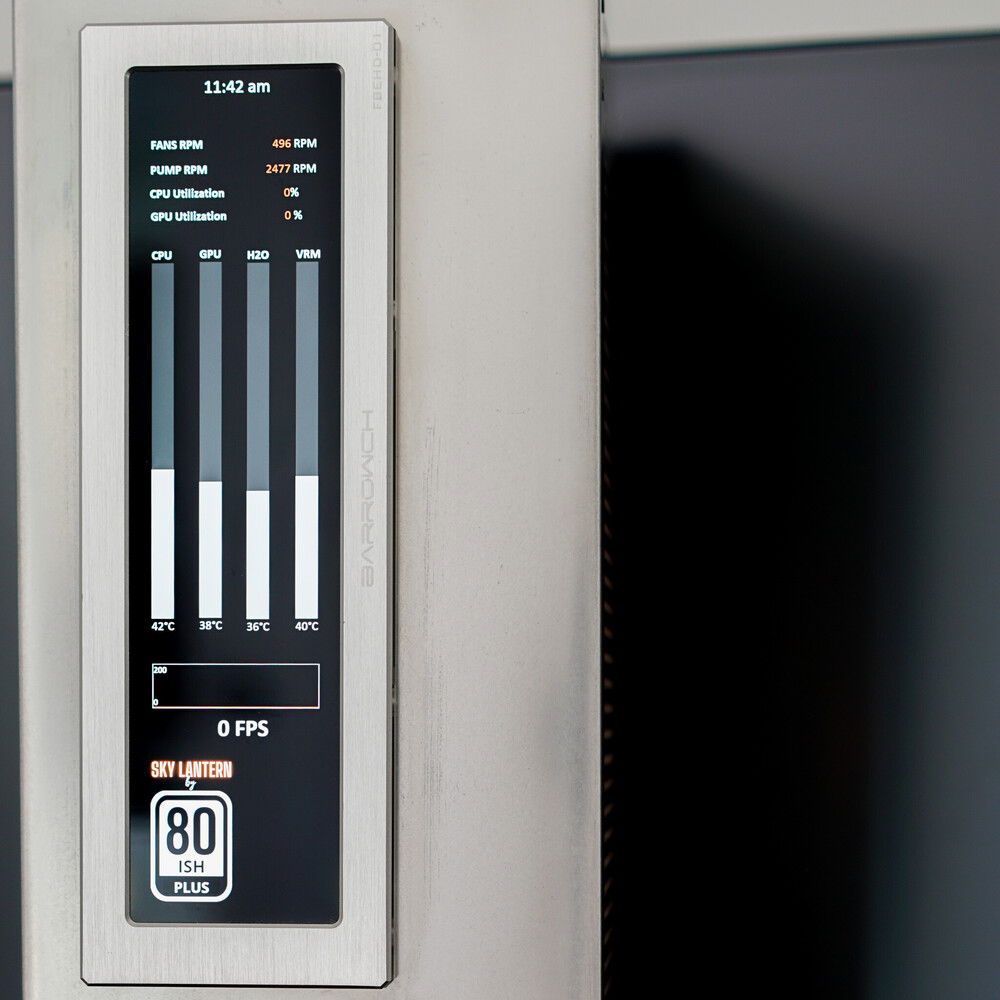 I had to create my own sensor panel layout that went well with the build. And this is what I came up with. I wanted a dashboard that was simple with only key metrics and my classy new logo in the bottom corner. With the panel being long, skinny and dense (1920 px top to bottom), I wanted a graphical layout that went with the SV590. So this meant no rotary gauges or off theme colours. I used the sensor panel software in Aida64 Extreme and I'm pretty happy with the end result. The screen itself is from @barrowwatercooling and is pretty expensive, but the display has a really nice clarity which you can see in the closeup shot.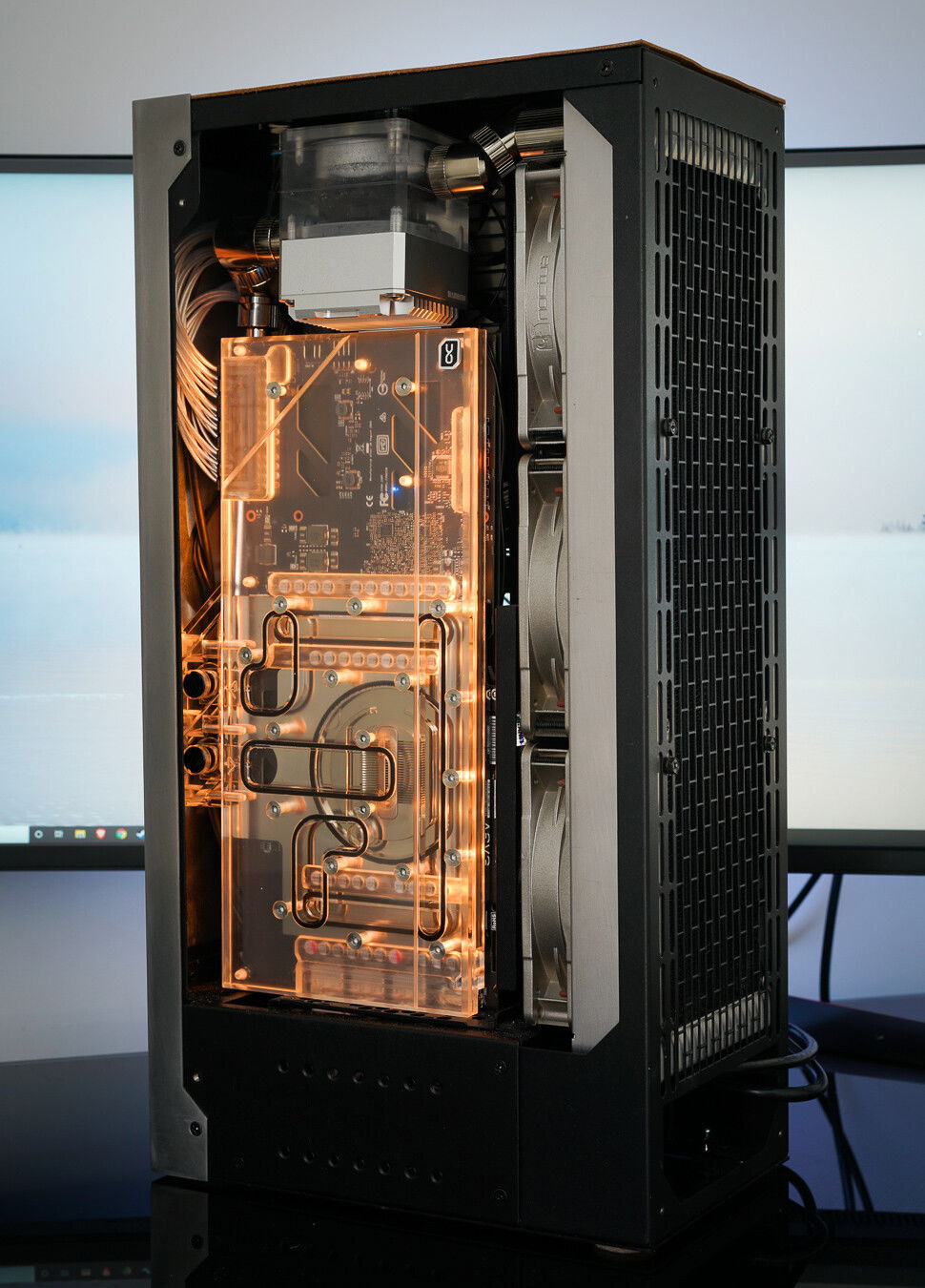 In a sandwich layout you have a couple of options. You can put the plumbing in front or behind the graphics card. In my builds Almagest and Windfall, the plumbing was on show and put in front of the GPU. It makes the build look complex and visually interesting. With this build I put nearly all the plumbing behind the GPU. This creates a simple monolithic view with only a few elements. (The radiator, pump res, GPU block). The build looks a lot cleaner because all the working parts are hidden behind the GPU block which takes centre stage. It's really a matter of preference which way you go in your design, and I tend to change my preferences. What I've done here is use the @sligercases optional GPU bracket to pull the GPU away from the spine. This has allowed me to run reverse side GPU fittings (EK classic) and a mixture of @ekwaterblocks soft tubing and @bitspower hard tubing to get it all to fit together. Of course, the star of the show is the @teamevga RTX 3080 FTW3 and the @alphacool_int FTW3 waterblock.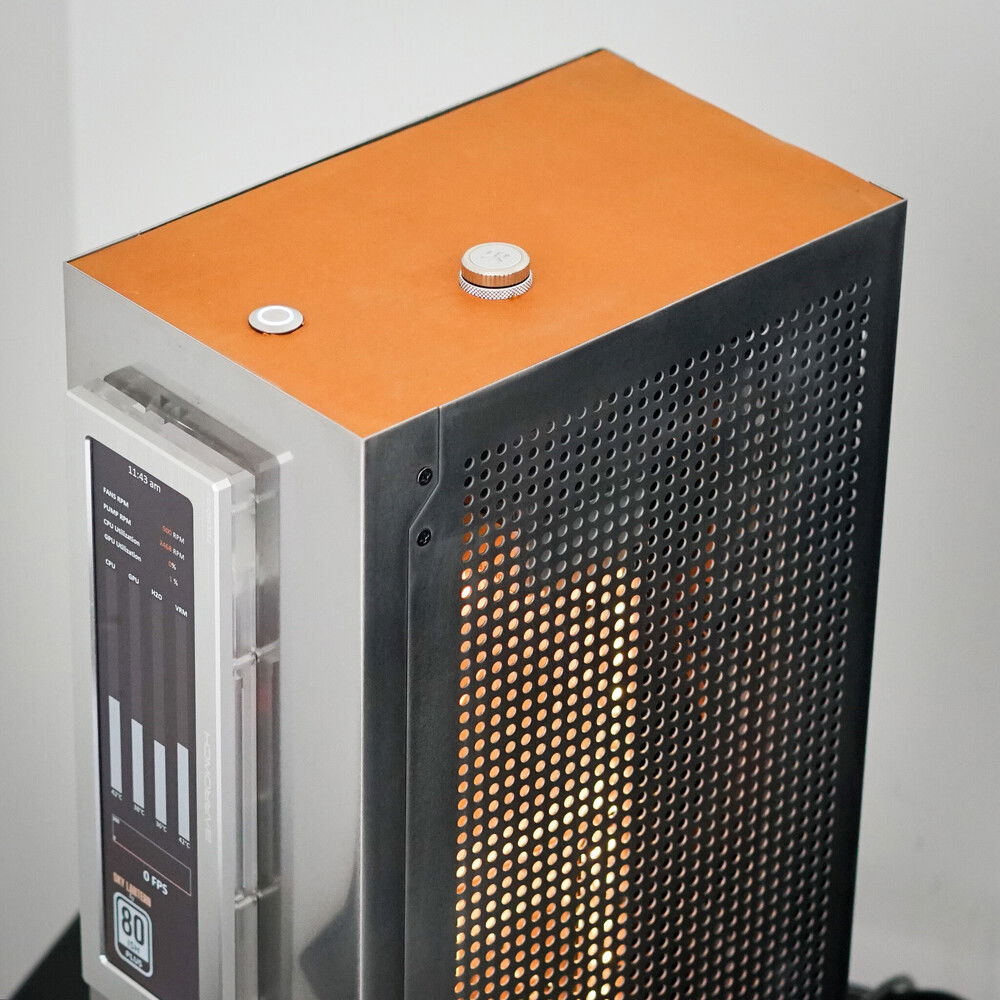 I'm really happy how this this natural tan leather top worked out. I think I nailed the colour combo with the steel. It's a veg tan leather so I've been working in some leather wax. Working fabric or leather into a build helps bring it into the home, because we surround ourselves with these materials for comfort. The typical RoG rig, all RGB and angular plastic, doesn't really fit into most settings that a PC will find itself. A well designed build, like a well designed building, takes into account the setting and environment so that it feels like it belongs. I hope that I've done this here, knowing what I do about where this PC is going and who it will belong to.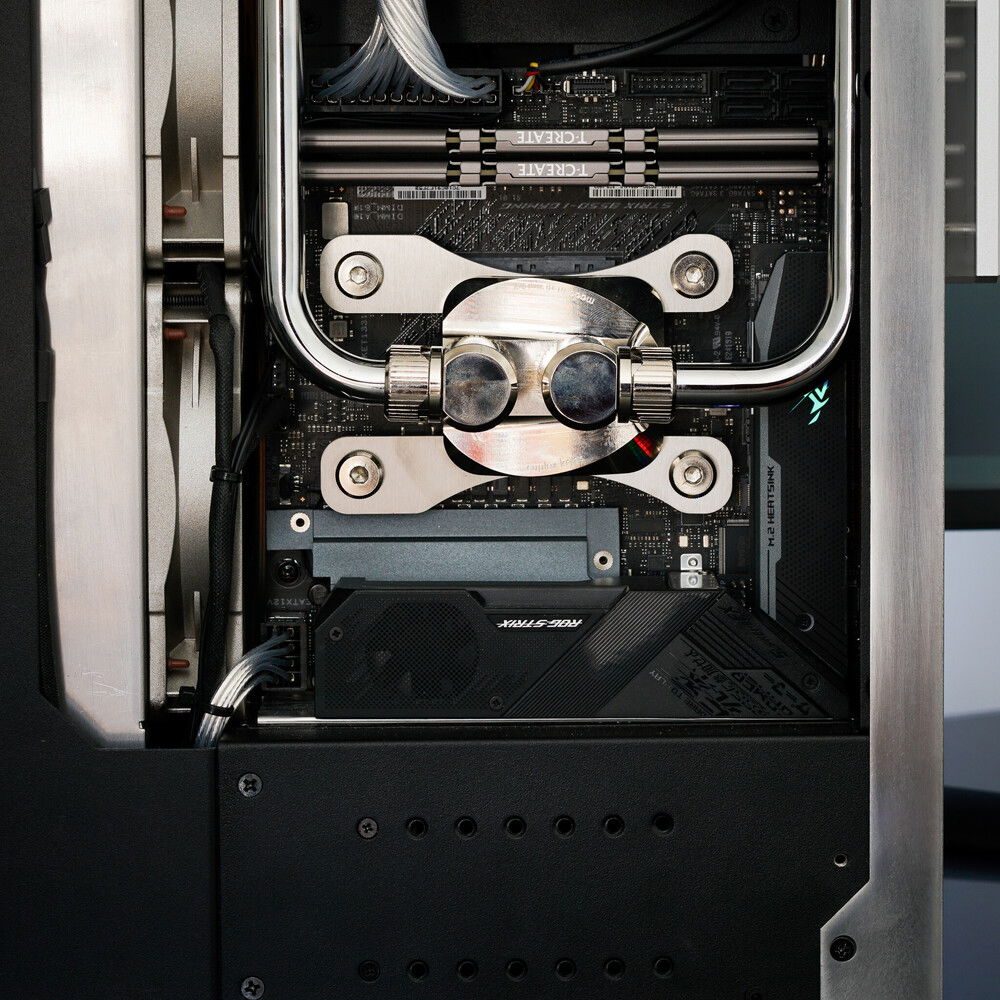 I really wanted symmetry in the tubing. It's always nice when you get some parallel lines happening with chrome tubing runs. It's a bit of a conceit here because the right hand side tubing runs up much further than it needs to, to give that impression. I actually have it join an @ekwaterblocks ZMT tubing run at the top of the case to bring it back down to the GPU near the bottom of the case. It's entirely unnecessary except for visual appeal. I'm really happy with how tight and clean this entire section is. The @ekwaterblocks paint stripped radiator and painted @noctua_at fans just go so well together. I keep waiting for a metallic framed fan to buy, but there's nothing really on the market that isn't bursting with RGB ickiness. I originally had 32gb of @teamgroupinc vulcan RAM in there but had to swap it out with T-create after a RAM stick was DoA out of the box. The speed and timings are pretty much the same. I basically wanted no RGB and a matching finish so it fits in. That @aquacomputer CPU block though... still amazing.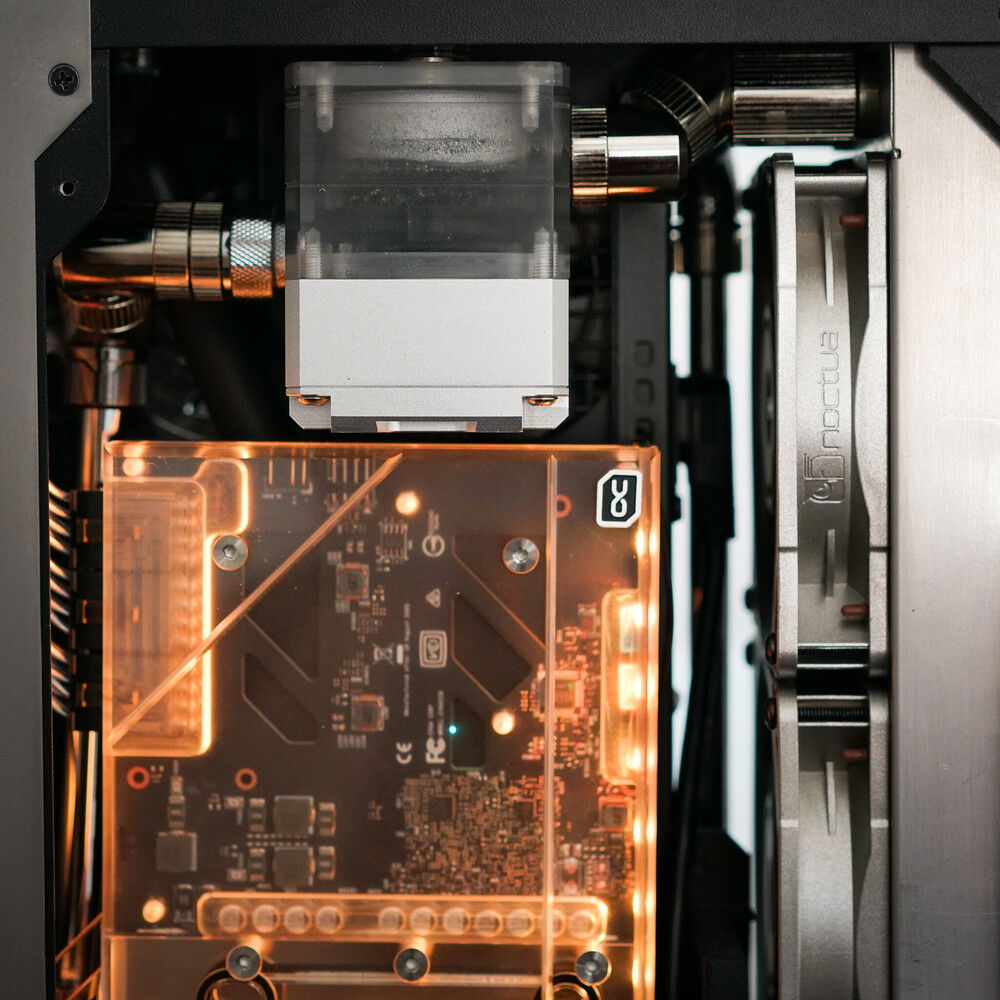 The cool thing about the pump-res is the way the angled fittings come down and into the inlet port from the radiator while the pump is attached to the roof of the case. Having both those things line up is pretty tricky. The outlet port on the pump has the motherboard thermocouple to take coolant temp and then takes the chrome tube down to the @teamevga RTX 3080. There's not a lot of room anywhere and the way this fits so neatly together is nice. The other advantage of having the pump free floating in this way is that vibrations are not transferred to the chassis so it tends to be a little quieter.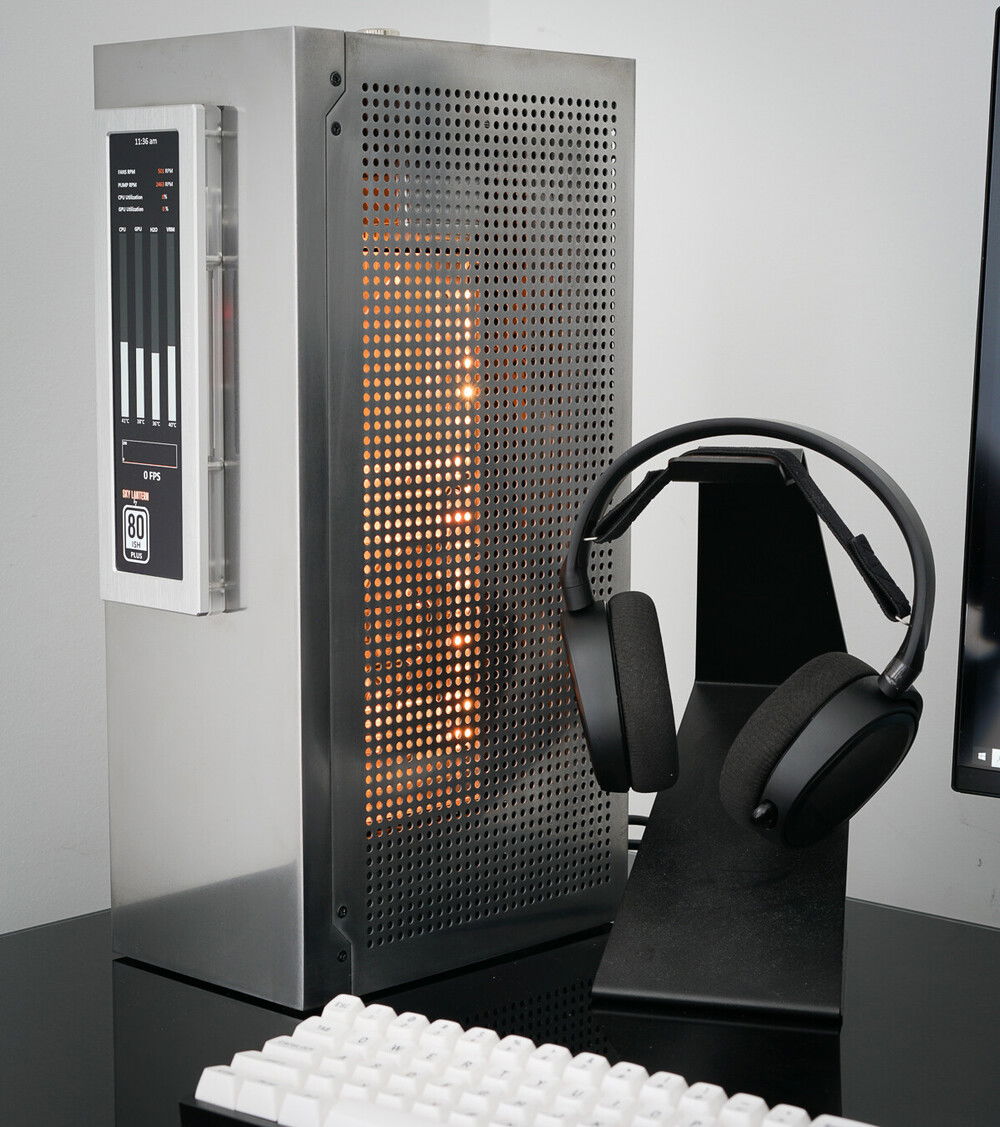 The last one for this build. Once again thankyou to everyone who followed the build log for Sky Lantern and offered me helpful tips along the way. Discovering the panels were galvanised was the biggest surprise with this one. Luckily it was solvable with a lot of elbow grease and chutzpah. The @sligercases SV590 is my third Sliger case, and I keep coming back to them because of their tough functionality and behind the scenes space for cable management and plumbing. The industrial aesthetic of smaller semi boutique fabricators like Sliger and Yuel Beast speaks to me, and when I put up a build in one of their cases that harmony carries over into the final build. I know that sometimes it can be hard to justify the added expense, particularly in our world of high hardware prices, but I feel that if you can afford a little piece of design, and one of these cases speaks to you, it's definitely worth reaching for it. It'll give you a little smile when you look at it on your desk.