Fell in love with SFF PC and decided to build one. I reused some parts from my ATX build to keep upgrade costs minimal. Now it sits nicely with on my desk.
Parts:
AMD Ryzen 3 3300x
Best budget processor imo. Not doing any rendering so 4 core 8 threads is enough.
B550i Aorus Pro Ax
Also bang for the buck for b550 mini itx motherboard. Looks good with minimalistic rgb.
Cooler Master v650 SFX
Tempted to go with SF600 but got a good deal for this PSU. 10 years warranty and fanless? Hell yes.
MSI GTX 1660 Super Ventus
Bought it last year before the mining craze and stocks disappeared. Good enough for me.
Deepcool CF 120 plus
Not the most silent ARGB fan you can buy, but it's decent. Comes with 4 pin pwm hub and 6 port ARGB controller.
Cooler Master sickleflow 120mm
Also decent ARGB fans.
Id Cooling is-50 max RGB
Use one of deepcool fans in this cooler. Works fine. Not very great in temps though. 41 celcius when idle.
Sama IM Quzao
I initially wanted to use NR200P but it is very rare in my country. So, i pick up one that has close resembly to it.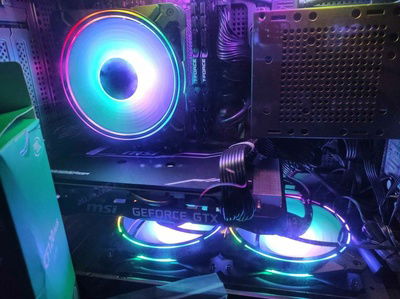 Build process is pretty good. Although it takes longer than my previous ATX build. Routing the cables is the hardest part, aside from connecting front io button.
I very enjoyed the experience though.